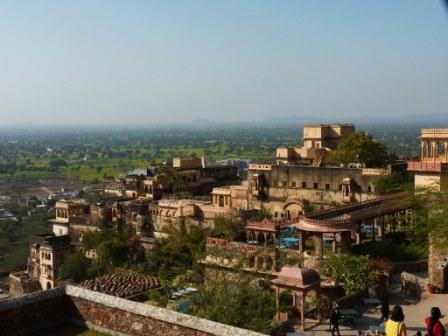 Fort Neemrana palace is a historical fort located in Alwar, Rajasthan. He is around 555 years old. And this huge 10-story fort was built by cutting the Aravalli hill into three acres. When Neemrana Fort was built, a total of 11-story were built in it. The fort built in 1464 was ruled by King Maharaja of Prithviraj Chauhan dynasty lived on this fort for many years.
Neemrana Fort is quite grand in appearance. And in the construction of this fort, a mixture of Mughal and Rajputana architectural style is clearly visible. Apart from this, the image of the British era can also be seen in the interior decoration of the palace.
The Neemrana Fort was named after Nimola, the head of the city. Because when Prithviraj Chauhan conquered this fort and took possession of the city. After the defeat, the chief's wish was that the name of the fort should be kept in his name. Then Prithviraj Chauhan obeyed him and gave the city its name.
N

eemrana fort palace hote

l
In 1947 Raja Rajinder Singh left the Neemrana Fort and thought of using Vijaybag as a pawn. It is said that Raja Rajinder Singh wanted to sell this fort. This fort was repaired in 1986. And it was transformed into Heritage Resort in 1986. Many restaurants are built in this fort instead of in the palace.
The special thing about this the fort is that a total of eight parts have been built in the palace of this fort. And every room built here is given different names. Tourists can enjoy the grandeur of the palace by paying a fee.
The quiet atmosphere of the fort and the gorgeous pictures inside makes the mind swell.
Due to the Neemrana Fort being built on a high mountain, you can enjoy the grandeur of the surroundings from the balcony of most rooms. Even from the bathroom of this fort, you will easily get to see the green views.
Neemrana fort palace rooms

 
In 1991, this fort was opened for viewing by the common people, but people were allowed to live in only 15 rooms here.
This fort has been awarded many awards. These include 'Intach Satte' and the Aga Khan Award. By 2008, this fort had become a beautiful palace and had 72 rooms, hanging gardens, restaurants, swimming pools, and big pools.
At one time this fort was completely ruined but now this fort has taken the form of a grand and beautiful palace.
The fort was built by cutting the Aravalli hill. Therefore, when people go up and down in this palace, then there is a feeling of climbing a hill.
At present, this palace has become a major heritage site and is a suitable place for weddings and conferences.
Neemrana fort entry tickets

 | Neemrana

fort palace fees
Weekday lunch rate (Mon-Fri) is Rs. 1700/- includes (Entry Rs. 284/- & Lunch Rs. 1416/-) between 10 am to 2.30 pm &
The weekend lunch rate (Sat-Sun) is Rs. 2000/-  includes (Entry Rs. 584/- & Lunch 1416/-) between 10 am to 2.30 pm. This Includes
Neemrana fort palace booking
How to reach Neemrana Fort
Nearest Railway Station – Neemrana 70 KM
Nearest Airport- 
Indira Gandhi International Airport 108 km & 
Jaipur Sanganer Airport 136 km 
Alwar Tourist Place:- Also Visit