Karni Mata Temple is located in Deshnok of Bikaner district of Rajasthan. The temple of Maa Karni is also known as the Mouse Temple. Because there are thousands of rats in Mata's temple.
they can be seen here always having fun and jumping, Which is located about thirty kilometers from the district headquarters of Bikaner Rajasthan.
Thousands of black-colored rats along with white-colored mice are found in the Karni Mata temple. These mice are called Kaaba.
Excessive mice can be inferred that devotees have to drag their feet from the main gate of the temple to reach the main statue inside.
Karni Mata Temple Deshnok Bikaner Rajasthan
Because if you walk with your feet raised, the rats can come under your feet. Due to which the rat may be injured, which is considered inauspicious in the temple of the mother.
"It is believed that if a devotee sees a white mouse in the temple premises of Mother, then that devotee must fulfill your wish."
The surprising thing in Mata's temple is that, even after thousands of rats, there is no dirt on the temple premises. And no smell comes in the temple premises. And till date, there is no disease spread in the temple premises of Karni Mata.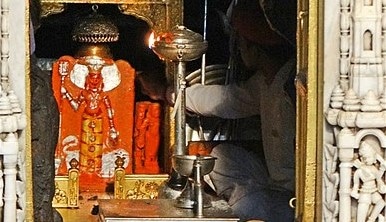 In this unique temple of Rajasthan, rats are offered milk, laddus, and other dishes and the devotees visiting Karni Mata temple get false offerings of mice. And to date, no devotee got sick from eating false offerings.
One of the special things about the rats of Karni Mata temple is that the temple is dedicated to Mata Karni aarti in the morning and evening. During this time most of the rats come out of their bills. And a lot of fun and jumping.
Story of the Mouse of Karni Mata Temple Deshnok 
According to local people, the mice found in the temple complex of Mata have a different story. According to which, it is said that once an army of about 20,000 soldiers came to attack Deshnok. Then Karni Mata gave the rats to all soldiers with her glory. And later he put all those mice in his service.
According to another story, it is said that for these mice in the temple, these rats are believed to be descendants of Mata Karni.
"Karni Mata, devotees and local people consider the incarnation of Mother Jagadamba."
karni mata ki katha | Karni Mata Story
Karani Mata was born in 1387 in a Charan family. His childhood name was Raghubai. Raghubai was married to Kipoji Charan of Vatika village. But after a few years of marriage, Raghubai's mind became bored with worldly life.
Due to this, Raghubai married Kipo Ji with his younger sister Gulab. And later Raghubai renounced the worldly life and devoted herself to the service and devotion of the people.
Due to public welfare, supernatural work, and miraculous powers, Raghubai is revered by locals as Karani Mata. It is believed that Karni Mata lived for about 150 years.
According to local people, in the present place where the temple of Mata Karni is located, Karni Mata worshiped her mother Goddess in a cave located at the same place. This cave is still located in the temple complex.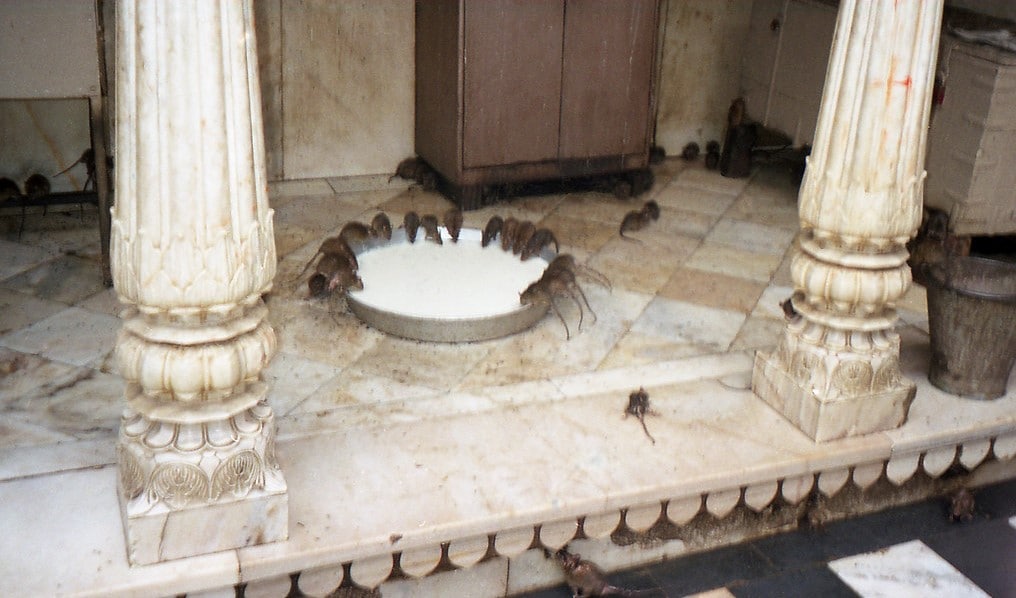 It is said that after living for about 150 years, Mata Karni became Jyotirlin in 1538 AD. After which the idol of Karni Mata was installed in this cave. Then later Maharaja Ganga Singh of Bikaner built the temple of Karni Mata here. Presently the faith of thousands of devotees is attached to this temple.
The temple of Mata Karni is built using magnificent Rajput and Mughal architectural styles. The temple of Mata Karni is made of stones of Sangammar. This temple is very attractive and beautiful to see.
The temple complex is open from 4.30 am to 10 pm. But at five o'clock in the morning Mangla Aarti and at seven in the evening, the fun and jumping of mice are worth seeing.
How to reach Karni Mata Temple Deshnok Bikaner
Near Railway Station: Deshnok 1 km
Near Airport of karni mata temple :-  Nal, Bikaner 50 km
"Bikaner City and Karni Mata Temple Deshnok Bikaner can be reached by bus and rail from anywhere of Rajasthan"
My self Dev Satish. I'm an Author and Founder of tourism-rajasthan.com. I'm from Rajasthan and If I talk about my Education then I'm Law Graduate. I love doing work that makes me happy, that's why I love traveling. you will find Rajasthan travel ideas & tips on this blog.