Kumbhalgarh fort is situated in the Rajsamand district of Rajasthan. This fort is famous for India's most old fort. Kumbhalgarh was famous not only in Rajasthan or India but all over the world. This fort was famous for adventure, wildlife, enthusiasts, history buffs and architectural, photographers.
Kumbhalgarh Fort is one of the five hill forts in the state of Rajasthan, which was declared a World Heritage Site by UNESCO in 2013. Built on the foothills of the Aravalli ranges, this fort is surrounded by thirteen mountain peaks of the ranges and is situated at an altitude of 1,914 meters. This charming fort is situated amidst a forest that has been converted into a wildlife sanctuary.
History of Kumbhalgarh Fort In Rajasthan
This fort was built by Maharana Kumbha on Saturday, May 13, 1459. This fort was called 'Ajaygarh' because conquering this fort was a difficult task. There is another stronghold within this fort known as Katargarh.
This fort was attacked by Ahmed Shah I of Gujarat in 1457. The local people believe that there was a presence of Banmata Devi in ​​the fort which protected this fort, whose temple was destroyed by Ahmed Shah.
After this, many efforts were made by Mohammad Khilji in 1458-59 and 1467 to acquire this fort. But Akbar's commander Shambhaz Khan acquired the fort in 1576. After this, the temples along with Marathas and buildings were also occupied.
Architecture Of Kumbhalgarh Fort
Kumbhalgarh Fort is situated on a hill that is about 1100 meters above sea level. The gate of this fort is also known as Ram Gate or Ram Pol. The fort has about seven gates and a total of 360 temples, 300 of which are ancient Jain and the rest Hindu temples.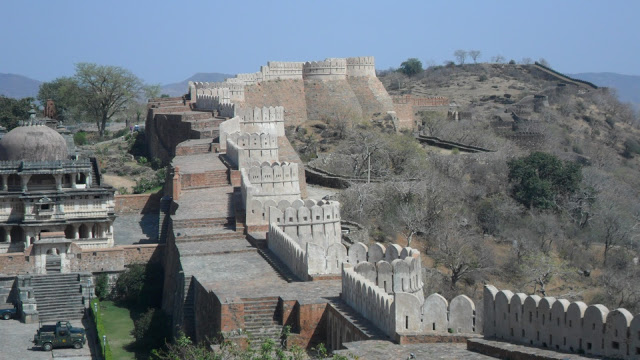 This fort has a temple dedicated to Lord Shiva with a huge Shivalinga installed inside it. A beautiful view of the dunes in the Thar Desert can also be seen from this fort. The walls of Kumbhalgarh Fort are 36 km in diameter, making it one of the longest walls in the world.
The frontal walls of this fort are quite thick, which is 15 feet thick. There is a Lakhola tank inside this fort which was constructed by Rana Lakha between 1382 and 1421 AD.
This fort was built by Maharana Kumbha on 13th May 1459, Saturday. This fort was called 'Ajayagad' because it was a difficult task to win over this fort. A large wall around it is the second-largest wall in the world after China's wall.
 "Kumbhalgarh Fort is a World Heritage Site located in the hills of Rajasthan." 
This fort spreads over 1,087 meters high and 30KM in diameter from 78 km from Udaipur and is a unique monument of the brightness and talent of Yashishvi Maharana Kumbha of Mewar.
The construction of this fort was completed in 1459 after 15 years after the beginning of 1443 on the remains of the fort the second son of Ashoka.
"Kumbhalgarh is also the birthplace of great ruler Maharana Pratap."
Kumbhalgarh, the birthplace of Maharana Pratap has been a crisis capital of Mewar in away. From Maharana Kumbh to the time of Maharana Raj Singh, the Royals family stayed in this fort at the time of the attacks on Mewar.
Maharana Uday Singh was also brought up by Panna Dhayya in this fort. Maharana Pratap stayed in this fort for a long time after the battle of Haldi valley.
Every year Rajasthan Tourism Department organizes a huge festival in Kumbhalgarh in memory of Maharana Kumbh. The fort is decorated with light during this three-day festival. During this time, dance and music are also performed by local people.
Many other competitions are also organized in this festival like touring the fort, tying a turban, stretched for war and mehndi Mandana, etc.
Main Monuments Inside Kumbhalgarh Fort
Ganesh Temple, Vedi Temple, Parsvanatha Temple, Bawan Devi Temple, Kumbha Palace, Badal Mahal,
Entry Fees of Kumbhalgarh Fort Rajsamand Rajasthan
There is an entry fee of INR 15 for citizens of India and visitors of SAARC and BIMSTEC countries. For foreigners, it is INR 200.
Timing of Kumbhalgarh fort  
From 9 AM to 6 PM every day.
How To Reach Kumbhalgarh Fort Rajsamand Rajasthan
 Near Railway Station: – 100 KM Udaipur City (Suitable) Bia RJ SH 32
Near Airport: – 115 Km Udaipur Bia NH27
My self Dev Satish. I'm an Author and Founder of tourism-rajasthan.com. I'm from Rajasthan and If I talk about my Education then I'm Law Graduate. I love doing work that makes me happy, that's why I love traveling. you will find Rajasthan travel ideas & tips on this blog.