Situated in the Jaisalmer district of Rajasthan, the Patwon ki Haveli is an interesting piece of architecture. The Patwons haveli is the most important among the havelis located in Jaisalmer.
The first reason is that it was the first mansion in Jaisalmer, and the second reason is that it is not a mansion but a group of 5 small Havelis.
These Havelis of the Patwans form an important part of the tourist spots of Jaisalmer.
Patwon Ki Haveli Jaisalmer Rajasthan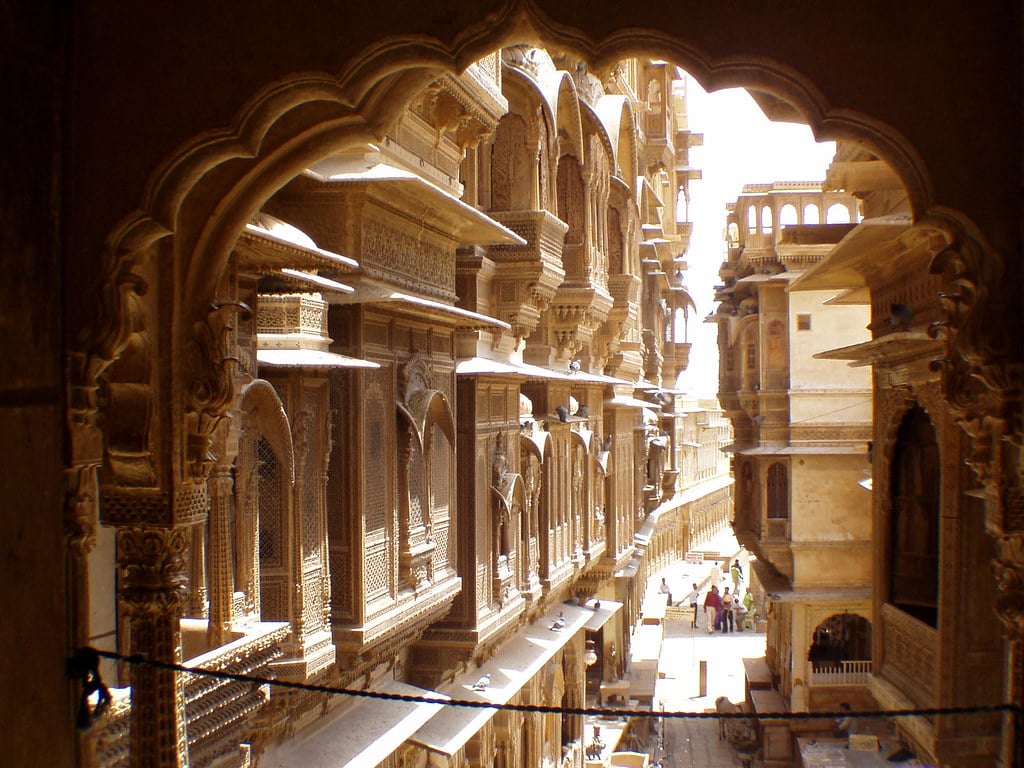 History OF Patwon Ki Haveli Jaisalmer
The construction of the Havelis of the Patavs started in 1805 by Jaisalmer businessman Guman Chand Patwa at a distance from the Jaisalmer Fort on the advice of a Jain priest, in which separate Havelis were built for his five betos for the next four decades. Which is known as Patwaon Ki haveli.
Gumanchand Patwa, who built Patwaon Ki haveli, was a large businessman of Jaisalmer who used to work with gold and silver, as well as paying a large amount on interest.
Until the early nineteenth century, this mansion was the main center of the trade of the Patwos in Jaisalmer.
The Patwon haveli is the largest mansion in Jaisalmer and is on a narrow street. The mansion is currently occupied by the government, which uses it for various purposes.
The Office of the Archaeological Survey of India and the State Arts and Crafts Department is located in the mansion itself.
These five-story Patwaon Ki haveli, built in the narrow streets of Jaisalmer, is built in Rajput and Islamic style. The idea of ​​making in Islamic style came from those Islamic countries which used to fall on the Silk Route passing through Jaisalmer at that time.
The Havelis are made of the Jaisalmer-trained yellow stones, out of these five tourists can roam only in two Havelis.
The rest of the mansion is closed due to poor maintenance. There is a danger of them collapsing at any time.
Entry fee/Ticket Patwon Ki Haveli Jaisalmer
RS 50
Visiting Patwon Ki Haveli Jaisalmer
9.00 AM to 05.00 PM
How to reach Patwon Ki Haveli Jaisalmer
Near Railway Station – Jaisalmer
Near Airport – Jaisalmer
My self Dev Satish. I'm an Author and Founder of tourism-rajasthan.com. I'm from Rajasthan and If I talk about my Education then I'm Law Graduate. I love doing work that makes me happy, that's why I love traveling. you will find Rajasthan travel ideas & tips on this blog.