Jagmandir Palace, located in Udaipur, Rajasthan, is a beautiful palace to the south of Pichola Lake. Jag Mandir Palace is one of the most famous tourist destinations of Udaipur.
This three-storied building is a palatial structure made of yellow sandstone and marble. It was built in the 17th century, which was used by Maharana Karan Singh to hide the (Shahzah) Khurram.
The construction of Jag Mandir Palace Udaipur was started by Maharana Amar Singh in 1551 and continued by Maharana Karan Singh. The palace was completed by Maharana Jagat Singh in the early years of the 17th century.
Jagmandir Palace Udaipur Rajasthan
Maharana Karan Singh was ruling Mewar between 1620 and 1628 and Shahzade Khurram [Shahjaha] rebelled against his own father Jahangir for the throne. Khurram came to Udaipur from Delhi for fear of his father Jahangir, to whom Maharana Karan Singh gave shelter.
Khurram [ShahJaha] had escaped with his wife and two sons. At that time, he was first kept safe in the City Palace but he was sent to Jag Mandir Udaipur due to public fear.
At that time construction work of Jagamandir was going on. The Mughal Emperor Shah Jaha had envisioned building the Taj Mahal between 1623 and 1624 while living here.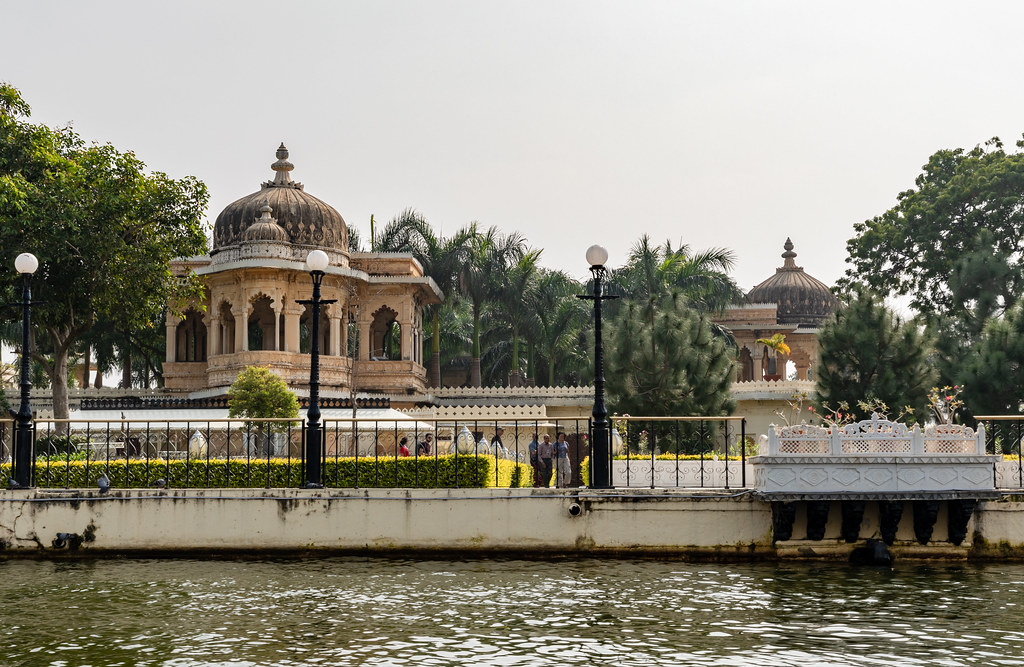 The construction work of this palace was completed by Maharana Jagat Singh after the death of Maharana Karan Singh. The present form of the Jag Mandir palace was prepared by Maharana Jagat Singh. Even in the rebellion of 1857, many European families were given shelter by Maharana Swaroop Singh in the Jag Mandir Palace.
Jagmandir Udaipur Rajasthan
The main center of attraction in Jag Mandir is Gul Mahal where Shahzada Khurram used to live with his family. Gul Mahal was constructed with Muslim architecture, which was built after seeing the likes of Khurram.
Seeing the religious purpose of Khurram, a mosque was also built in this palace. Another attraction of this palace is its courtyard, where black and white tiles are made out of the ceiling.
Apart from this, the other places to see are the stone palace, the Kunwar Pada palace, and the Zanana palace. The Bada Patthar Mahal is built with 12 strong marble strips. The palace of Kunwar Lada means Rajkunwar.
Zanana Mahal was built for the women of the royal family. The garden of Jag Mandir has plants like roses, palm trees, jasmine, palm trees, frankincense trees, and gardens of boganvellia.
A museum will also be seen in the Jag Mandir Palace, in which the history of this palace has been told. Eight elephant figurines have been built around this palace. Jag Mandir can be reached only by boat. Scenes from the James Bond film Octopussy were filmed at Jag Mandir.
My self Dev Satish. I'm an Author and Founder of tourism-rajasthan.com. I'm from Rajasthan and If I talk about my Education then I'm Law Graduate. I love doing work that makes me happy, that's why I love traveling. you will find Rajasthan travel ideas & tips on this blog.