The Ranakpur Jain temple is located in Pali Rajasthan, a distance of 96 kilometers from Udaipur. Lord Rishabhdev's Chaturmukhi Jain Temple is surrounded by forests around the valleys of the Aravali mountain in Rajasthan.
Due to the surroundings of the forests, the magnificence of the Ranakpur Jain temple is seen only. In India's Jain temples, its building is probably the grandest and huge.
Ranakpur Jain Temple History
The building of Ranakpur Jain temple is spread over 40,000 square feet. Today, about 600 years ago, the construction work of this temple started in 1446 Vikram Samvat, which lasted for more than 50 years. It is said that at that time, about 99 lakh rupees had been spent on the construction of it.
There are 4 artistic entrances in this temple. In the main house of the temple, Tirthankara Adinath has 4 huge statues made of marble. Figures about 72 inches high are oriented in 4 different directions. For this reason, it is called 'Chaturmukh Temple'.
Apart from this, there are 76 small domed places, 4 large prayer rooms, and 4 large worship centers. They inspire a man to get liberation after receiving liberation from 84 kinds of life and death.
Ranakpur Jain Temple Rajasthan
The main feature of this temple is its pillars, which are about 1,444. Here you see the pillars of small & Big sizes, but these pillars are made in such a way that from anywhere, the 'Darshan' of the main holy place does not obstruct.
These pillars have beautiful carvings. The special feature of these pillars is that they are all made of unique and different artifacts. The carving on the roof of the temple is a symbol of its excellence.
the makers of the temple have built a two-storeyed artistic building, many basements have been made while estimating any crisis in the future. In these basements, sacred figurines can be kept safe. These basements introduce the foresight of building the makers of the temple.
A Trust was given the responsibility of maintenance of this temple in Vikram Samvat 1953. He efficiently repaired the temple and gave it a new look. Carving on stones is so magnificent that many renowned craftsmen call it one of the wonders of the world.
Every year thousands of artists come to see this temple. Apart from this, there is also a footprint of Lord Rishabhdev on a piece of marble. These are the reminders of Lord Rishabhdev and Shatruenjay's teachings.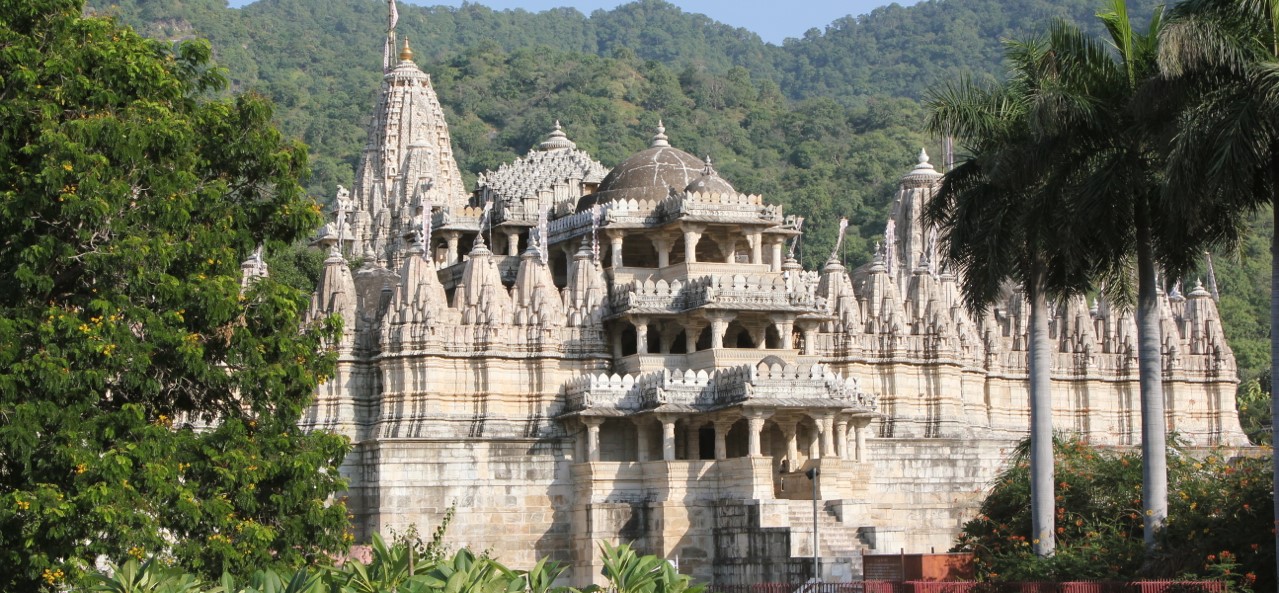 How Ranakpur Jain Temple was built
this temple was built by 4 pilgrims – Acharya Shyamsundaraji, Dharan Shah, Kumbha Rana, and Deepa. Acharya Somasundar was a religious leader while Kumbha Rana was the king of Malgarh and Dharan Shah was his minister. Dharan Shah, inspired by religious trends, decided to build Lord Rishabhdev's temple.
It is said that one night he appeared in the dream of the 'Nalinigulma airplane, which is considered the most beautiful in the holy planes. On the lines of this plane, Dharan Shah decided to construct a temple.
Dharan Shah invited many architects to construct the temple. They did not like any scheme offered by them. Eventually, they were satisfied with the plan of a simple architect Deepak, who came from Mundra.
Malang Naresh Kumbha Rana gave land to Dharan Shah for the construction of the temple. They also suggested setting up a city near the temple. A village named Madgi near the temple was chosen for it and the construction of the temple and the city started simultaneously.
It was called 'Ranpur' in the name of King Kumbha Rana, which later became known as 'Ranakpur'. Today's Ranakpur also gives a message about the old heritage and those who keep it, due to which Rankapur could only convert from one thought to reality.
Anyway, Rajasthan is famous for its magnificent monuments and buildings. The Ranakpur Temple located in Rajasthan is one of the five major pilgrimage sites of the Jain religion. This temple is famous for beautifully decorated ancient Jain temples.
Around the temple complex, there are 2 temples dedicated to Neminath and Parshvanath, which remind us of Khajuraho. The paintings of warriors and horses are inscribed on the walls of the Sun Temple, which is similar to an excellent example in itself. There is also a temple of Mother Amba, about 1 km away from here.
How to reach Ranakpur Jain Temple Rajasthan: –
Near Railway Station:- Udaipur 92 KM
Near Airport:- Udaipur 107 Via SH 32 & NH 27

Udaipur is connected to the major cities of the country through roads. Private buses and taxis are available from Udaipur here. You can also go from your personal vehicle here.
My self Dev Satish. I'm an Author and Founder of tourism-rajasthan.com. I'm from Rajasthan and If I talk about my Education then I'm Law Graduate. I love doing work that makes me happy, that's why I love traveling. you will find Rajasthan travel ideas & tips on this blog.