Ranthambore tiger reserve has located in the Sawai Madhopur district of Rajasthan state of India. The Ranthambore national park Located between the Aravali and Vindhyacha hill ranges, this is one of the best places to see forest lovers.
The Ranthambore Tiger Reserve covers an area of ​​about 400 sq km. And if it is linked to Sawai Man Singh with the sanctuary area, then it is about 500 sq km.
Ranthambore tiger reserve wildlife safari 
Sawai Madhopur Railway Station is 12 km away from Ranthambore Tiger Reserve.
Ranthambore Tiger Reserve was declared a Wildlife Sanctuary in 1957, and in 1974 it got the protection of "Project Tiger". In 1981, it got National Park status.
"Ranthambore National Park "the Land of Tigers"
Ranthambore Tiger Reserve is composed of many structures that remind you of the past era. There are several water bodies located in the entire park, which provide the right relief for forest residents during the excessive summer months. A huge fort, after which the park has been named.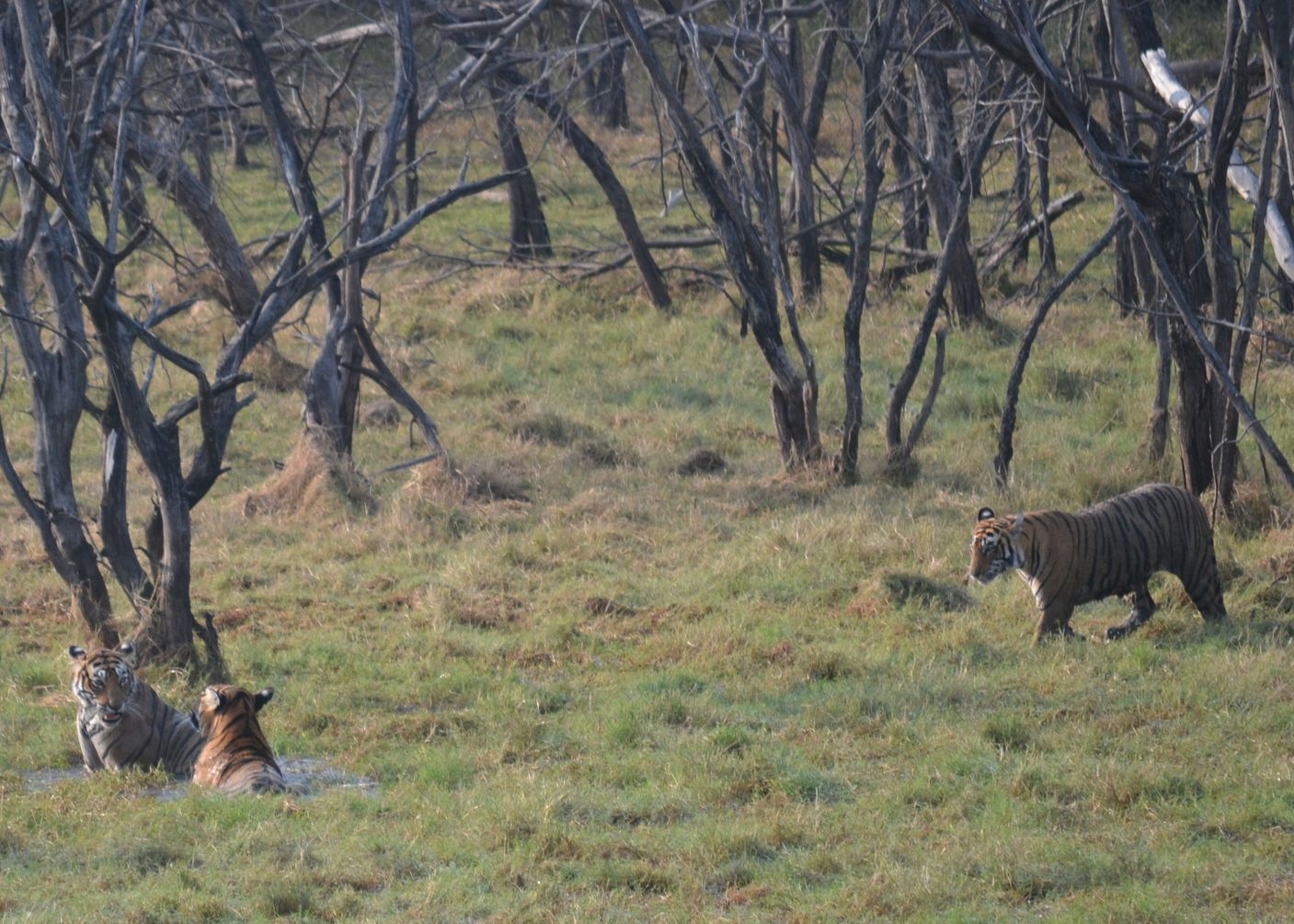 "There are many interesting spots to see you in Ranthambore National Park"
Famous Tourist Palace In Ranthambore

Tiger Reserve
Bakula:
Ranthambore National Park is surrounded by dense jungle on a large portion of its area. This area with dense forests is called the Bakula area. Bakula has a thick forest.
Due to the availability of excellent forest cover and water, the number of wildlife is high in the Bakula area of ​​Ranthambore National Park. Tigers with young cubs are often seen near the area of ​​water in Bakula because the dense jungle provides a tranquil atmosphere for a tigress and its youth.
Fat vegetation also maintains moisture in the air and lowers the temperature of this region. Bakula National Park is one of the best areas in Ranthambore where many birds can be seen walking around trees and small animals like squirrels and monkeys.
Kachida Valley:
This valley, which includes many rocky outflows and low hills is located close to the outskirts of the park. While trying to get into this area, a jeep is the ideal means of transport.
Most of the parks in this area are Panther populations. Panthers avoid going to the main forest to avoid conflict with tigers, who are known to kill them. There is also a good population of deer in this area.

Lakra and Anantapur:
Located in the north-western and northern areas of the park, this area is the ideal place to go in search of deer. There are a lot of ant mountains in these areas, which are favorites of deer. Although very rarely seen deer, the footprint of Indian Striped Deer is often seen here. Their number in the park is not very much.
Raj Bagh Ruins: 
These ruins are situated between Padam Talab (lake) and Raj Bagh Talab. Ancient stone structures such as arches, palace houses, domes, and stairs provide this area with an aura that is not possible anywhere else in the world.
Especially if you include the surroundings of the forest, these are ruins that remind Ranthambore National Park a unique blend of a wildlife reserve and a past, which makes it one of the most picturesque parks in the whole world.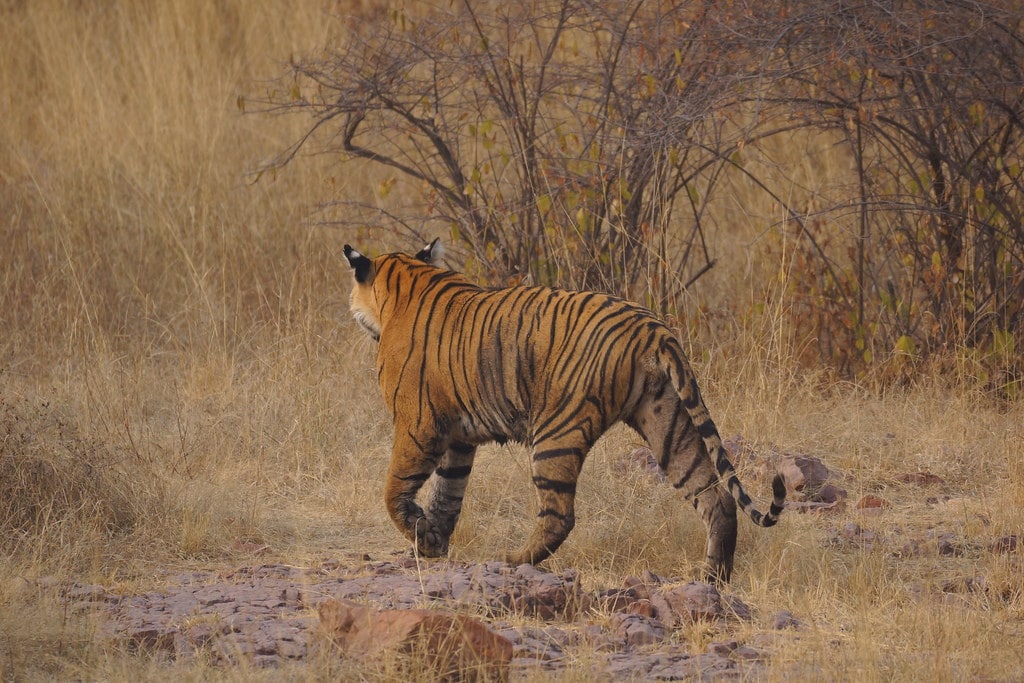 Padam Pond:
Padam Lake is the most breathtaking and the biggest lake in Ranthambore National Park. Jogi Mahal Guest House is located near the coast of this lake. In the early hours of the morning and before sunset, animals can be seen in large numbers on the lakes. The pond is an important attraction for wildlife photographers. The rare chinkara deer is most likely to be seen here.
This fort is located on top of a hill inside the park. As soon as the fort goes above the surrounding scenes are better and better, the view of the fort is quite fascinating. Therefore, it is advisable to take a good pair of binoculars along with the camera with a powerful lens if possible.
Many animals from the top of the fort can be seen along the edges of all the water bodies, which are visible from above all the fort. This fort provides many interesting architectural and historical sights in its own right. If you are going for the first time to the park then it is very important to visit the fort.
Rajbagh pond:
This is probably the most picturesque of the three lakes. This is mostly due to ruins that can be seen near its edges. There is always a line of the flock of animals for water. Therefore, there is always a large population of animals and birds.
In Ranthambore, the Sambar Deer has adapted the plants from the lake floor to eat the plants. The areas surrounding Rajbagh pond are also like the forest, there are prime tiger spots and it is accessible to the water sources.
Malik Taloop: 
It is the smallest of three lakes in Ranthambore National Park. But, as they say, all the best things come in small packages. This is definitely true for Malik Tao. This is an area full of focused action all the time.
It always looks like a healthy population of all kinds of birds. Very clearly on the lake and Indian crocodiles were seen from a very close distance and beautiful specimens. It is quite common to be able to see Kingfisher on the prey of small fish.
Ranthambore

Tiger Reserve

Safari booking
Ranthambore

Tiger Reserve

Safari Timing
Timings for entry into, and exit from, the park vary according to the season. In winters, due to the shorter duration of daylight hours, the morning entry time is later and the evening exit time is earlier. exit time is earlier.

Time Table Ranthambhore

Tiger Reserve

S.No.

Month

Morning Trip

Evening Trip

1st October to 31st October

1st November to 31st January

1st February to 31st March
How to reach

Ranthambore Tiger Reserve

Sawai Madhopur Rajasthan
Nearest Railway Station- Sawai Madhopur 12KM, 
(Which situated on the Delhi-Bombay railway line and also linked with Jaipur and Agra by rails.)
Jaipur to Ranthambore

distance
Jaipur Airport to Ranthambore distance – Jaipur 178 KM 
Distance by rail: Delhi – 362 km, Agra – 227 km, Bombay 1027 km, Kota – 108 km, Jaipur – 132 km 
Distance by road: Delhi – 480 km (via Dausa), Jaipur – 180 km (via Tonk)
My self Dev Satish. I'm an Author and Founder of tourism-rajasthan.com. I'm from Rajasthan and If I talk about my Education then I'm Law Graduate. I love doing work that makes me happy, that's why I love traveling. you will find Rajasthan travel ideas & tips on this blog.