At a distance of 34 km from Bikaner, Gajner Palace is a hunting lodge of Bikaner rulers located on the banks of the Gajner Lake of Bikaner.
Situated in the midst of the Thar Desert, Palace Gajner is one of the top tourist destinations in Rajasthan and one of the top places to visit in Bikaner.
Gajner Palace in Bikaner Rajasthan
Gajner Palace was mainly built by Bikaner, a former ruler of Maharaja Ganga Singh Ji, as a hunting resort in the days of the British Raj.
History Of Gajner Palace Bikaner
The royal mansion has hosted many dignitaries including the Prince of Wales in 1905, Lord Irwin's Governor General Lord Elgin and Lord Mountbatten in 1927 when he was Viceroy of India.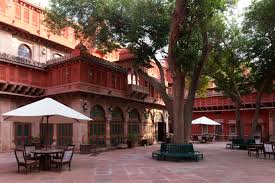 The Imperial Sand Grouse shooting at the palace during the Christmas season was the most sought after invitation in the Indian social calendar.
Gajner Palace, spread over 6000 acres, is a heritage property with a green garden. It was built in red sandstone and is a perfect example of craftsmanship.
The palace is known for its distinctive terraces and balcony. The palace complex also has the remains of a historic railway station.
This hunting resort was connected by rail to Bikaner Palace in 1922 AD.Palace Gajner has been converted into a luxurious heritage hotel in 1976 and is currently owned by the HRH Group of Hotels.
The Gajner Palace is divided into four wings, Dungar Niwas, Mandir Chowk, Gulab Niwas, and Champa Niwas. The hotel has 13 historic suites.
Each suite has been radically restored to its original grandeur. Every detail from furniture to wallpaper, four-poster beds, and picturesque windows have been carefully preserved.
GAJNER WILDLIFE SANCTUARY BIKANER RAJASTHAN
Nestled in the midst of a dense forest, tourists can spot migratory birds such as the Imperial Sand Goose, Antelopes, and Black Bucks near Nilgiris, Chinkaras, Blue Bulls and Deer near Lake Gajner. Tourists can also go for boating in the lake.
Gajner Palace Bikaner enter fees
visiting duration 2 hours
How to reach Gajner Palace Bikaner 
Near Railway Station – Gajner Railway Station
Near Airport Nal Bikaner