Taragarh Fort, a historical fort, which does not have any particular effect on Mughal architecture like some other forts in Rajasthan. this fort is also known as the bundi fort.
A small town, situated in the mountains of Aravali in Hadoti, the southern-eastern region of Bundi Rajputana, was also known in ancient times as Vrindavati.
Bundi was established by King Bunda Meena, about thirty kilometers away from Kota. In the Tehari century, the whole area was horrified by the horror of Sardar Jaiyata of Kushahara Meena's of Bandu Valley, it was a very difficult task to finish Meena's rule in those rocks.
Dev Singh Hada, along with Mewar, made a political move in 1340 and Meena Sardar Zaya was poisoned and poisoned and Dev Singh Hada got his right over Bundi.
History of

Taragarh Fort

(Bundi Fort

)  Rajasthan
Later, Napa Hada, the grandson of Dev Singh Hada, expanded his area, and in 1342 AD, he built a quadrangular fort on the peak of the Aravali mountain which is called Taragarh fort Bundi,
Taragarh means the palace of stars, the hill On seeing this fort looks like a star, hence its name was Taragarh It is said that a ceremony full of joy had become blood pigmented in Taragarh fort Bundi, the daughter of Rao Bir Singh Hada of Bundi was about to be married to Maharana Kheta, during that time, the kul Pandit of Mewar insulted Rao Beer Singh Hada.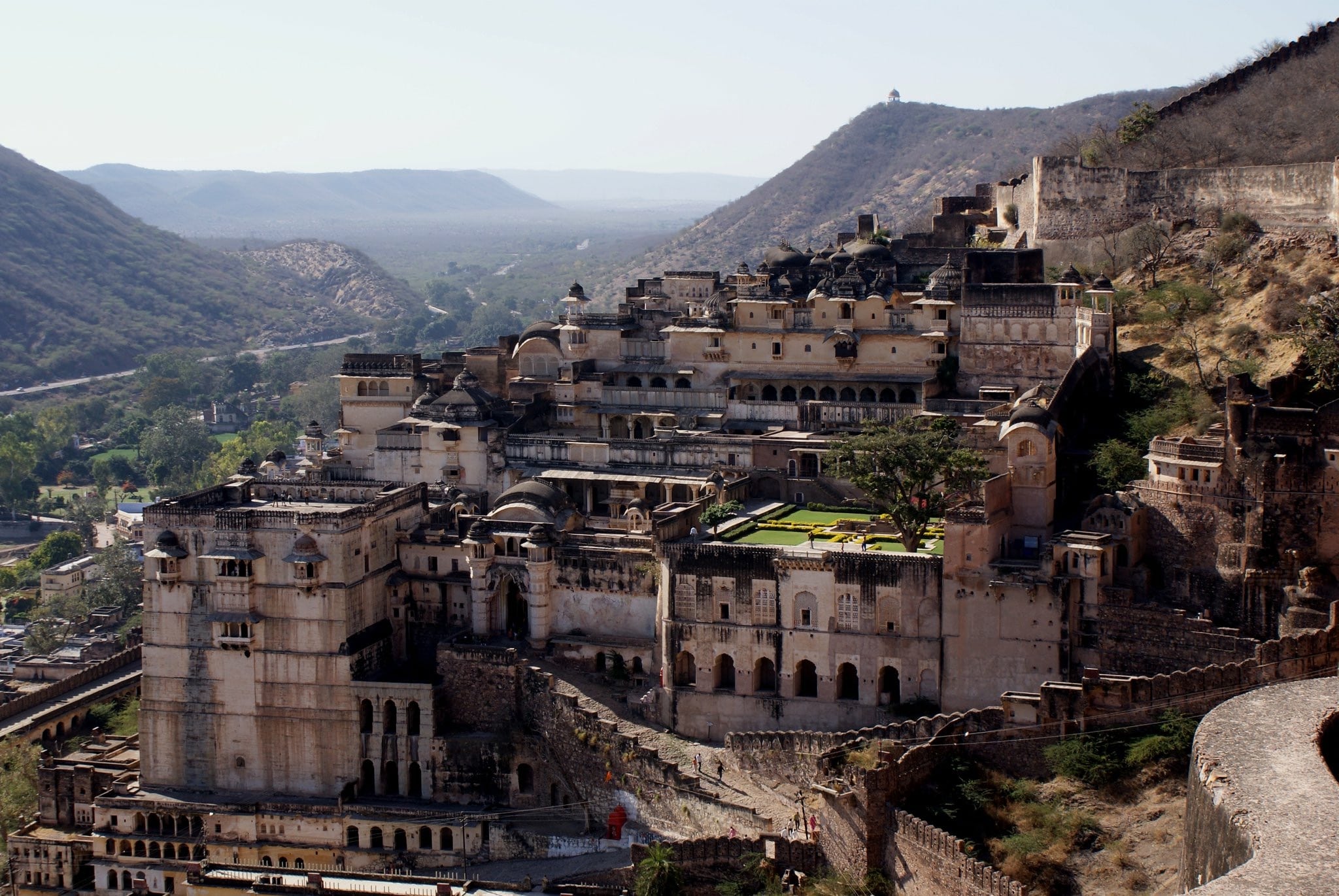 He gave the donation reject by them, saying that they accept donations from Rajputs only. Rao Lal Singh, insulted by Hada Kula, was not able to bear his anger and got his sword on Brahmin, the anger of Lal Singh Hada was not seen by Maharana Kheta on his total priest and he returned to Mewar without marriage.
From this festival of Taragarh fort, two Arthii were replaced by the bride's dolly. The sweet relations with Mewar became toxic, when the relations with Mewar worsened, the robbers of Gujarat and Malwa started robbing this Bundi principality.
Bundi Fort Rajasthan
Bir Singh was killed and his son was imprisoned and imprisoned in Mandu, in the event of this sorrow, Samar Bandu was seated on the throne of Bundi, Bandu once insulted him by stopping the worship of his goddess.
In his anger, his nephew Narayan Singh attacked him with a sword and killed a gunman. Narayana Singh sat on the throne of Bundi and reconnected his niece Karnawati to Rana Saya to repair the relation with Mewar.
(Karnavati is the same queen of Mewar who had made another johar of sixty pieces often a thousand garments).
 Once the relationship with Mewar was restored, Bundi snatched his area back from Malwa. In 1579 AD, a King Rao Surjan Hada, who gave the Ranthambhore and the fort of Bundi, to Mughal Emperor Akbar and made a treaty with them.
Raising the voice against this treaty joined with his court and eldest son Mewar. Bhoj Singh was placed on the throne after Rao Surjan Hada drowned in the titles and titles given by the Mughals.
With the meeting with the Mughals, the glory of the Bundi principality doubled and the power and power became increasing, the art and education started to grow in Bundi, buildings from one beautiful artwork began to be built and Bundi got the new name of the small Kashi. 
In 1607, Taragarh fort Bundi was given a real form, the painted buildings decorated in the walls started building space in the lower part of Taragarh.
Famous Places to see in Taragarh fort Bundi
Badal Palace, Chitrshala, Garbha Gunjan, Chhatra Mahal, Elephant Pol, Naval Sagar, Garh Palace, Diwan Ai Aam, etc.
Best Travel time of Taragarh fort |

Bundi Fort 
From October to mid-April.
Opening Time Of

Bundi Fort
In summer – from 8 a.m. to 7 p.m.
In winter – from 8 a.m. to 6 p.m.
How to reach

Bundi Fort

Rajasthan
Nearest big railway station:-  Bundi 36 km
Airport – Jaipur, 200 km
My self Dev Satish. I'm an Author and Founder of tourism-rajasthan.com. I'm from Rajasthan and If I talk about my Education then I'm Law Graduate. I love doing work that makes me happy, that's why I love traveling. you will find Rajasthan travel ideas & tips on this blog.