Bada Bagh Jaisalmer Is a garden complex situated on the path of Ramgarh, about 6 km from the Jaisalmer district of Rajasthan state. Badabag means a big garden.
This is the important Tourist Palace of Jaisalmer. Where there are millions of domestic tourists visiting in the year.
This place is the Royal Mausoleum of the kings of Jaisalmer. Famous for royal umbrellas. Which started with Jai Singh II in 1743 AD.
"The big garden is a huge park famous for its royal monuments or umbrellas which were constructed by various Bhatti rulers."
History of Bada Bagh Jaisalmer Rajasthan
The founder of the state and Maharaja of Jaisalmer state, Jai Singh II (1688-1743), descended from Maharaja Jaisal Singh, built a dam in the 16th century to make a water tank during his reign. Due to this dam, the desert area became green.

After the death of Maharaja Jai ​​Singh II on September 21, 1743, his son, Lunkaran, constructed a beautiful garden near the lake and an umbrella for his father (Jai Singh II) on a hill near the lake. Later, many more monuments were built here for the Lunkaran and other Bhatis kings.

The Mausoleum of King Maharwal Jait Singh is the oldest monument here. And the last umbrella is of Maharaja Jawahar Singh, which has not been completed after 20th-century dates and Indian independence.
The Bada Bagh is situated on a small hilltop. In which the entry is from below the hill. There are some monuments in the first line and there are many monuments ahead, which are accessible to the hills.
These monuments are carvings of different sizes and sandstone stones. Each monarch's monument has a marble inscription, in which there is an image of a ruler about the ruler and on the horse.

The umbrellas built in the big garden appear to glow with the sun's rays. Due to the finest architecture now, these umbrellas have become a tourist attraction.

Jaisalmer Tourist Destination" umbrellas of Bada Bag are among the first choices of newly-married couples in India and abroad."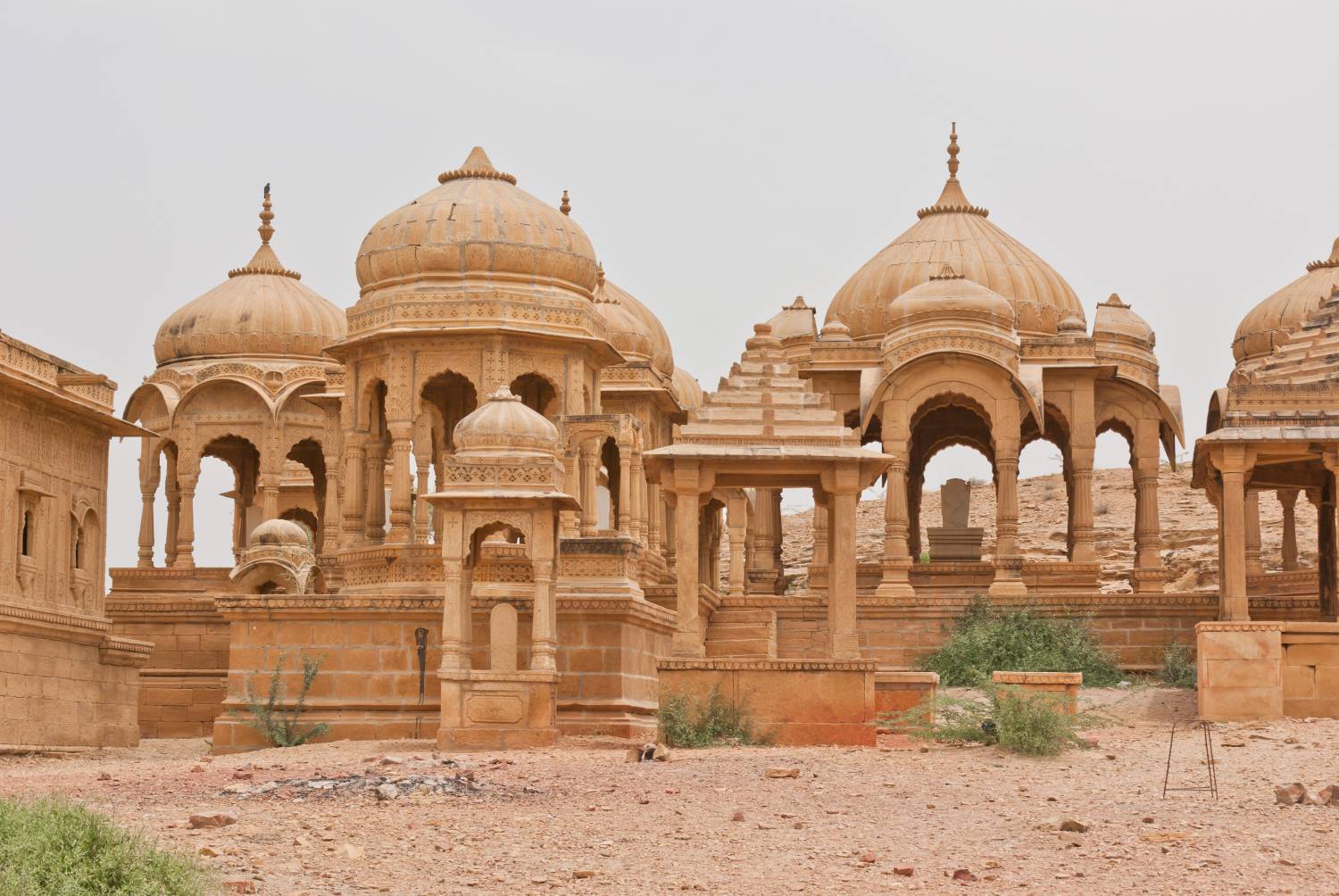 In addition to the monuments inside the park, tourists can also see the Jaitaar tank, the Jaita dam, and a Govardhan pillar. The solid pieces of stones were used in the construction of both the tank and the tank.
How to Reach Bada Bagh Jaisalmer Rajasthan India
Near Railway Station Of Bada Bag: Jaisalmer 9 KM 
Near Airport of Bada Bag: Jaisalmer 21 KM 
Auto and taxi from Jaisalmer city can reach tourists from this tourist spot.


My self Dev Satish. I'm an Author and Founder of tourism-rajasthan.com. I'm from Rajasthan and If I talk about my Education then I'm Law Graduate. I love doing work that makes me happy, that's why I love traveling. you will find Rajasthan travel ideas & tips on this blog.